 I finished my quilt!
Jul, 14 , 11
windish01@yahoo.com
I got it done! I'm really excited about it too!




These were the blocks I had the flickr group make...remember?




I used a black with tiny white pin dots for the binding. I machine stitched it on. I am not patient enough to hand stitch it. It would have never been finished if I had tried!




I'm going to use it for picnics and park outings. Bo is especially excited to have a picnic on it. He's been asking non-stop since I got it done:)




I backed it with a twin sized sheet from Target...where else:)?




Happy picnicking:)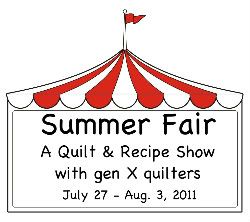 COMMENTS
Debra
Jul 14 ,2011
Its adorable…stumbled here from flickr…adorable little men you have there too!
Sharon Pernes
Jul 14 ,2011
What a great quilt! I just found your blog from the August blog link up, I'm right below you.
Head of Director, SEO
Recent post



Blog Archive
February 2017
November 2016
May 2016
April 2016
September 2015
August 2015
June 2015
May 2014
April 2014
February 2014
January 2014
December 2013
October 2013
July 2013
March 2013
February 2013
November 2012
October 2012
September 2012
August 2012
June 2012
May 2012
April 2012
March 2012
instagram
Liquid error (snippets/blog-sidebar line 200): Could not find asset snippets/instafeed.liquid